The Futurist team loves modern, bold, sexy designs. We strive to design gyms that evoke our clients' passion for climbing, distinguish their business from others and exemplify their brand. We take inspiration from modern art and architecture, innovative industrial design, even science fiction. Our team creates climbing facilities that maintain their viability and competitiveness through timeless designs.
Electronic 3D SketchUp design file (exportable into CAD) for architects, engineers and climbing wall suppliers
Pre-architectural design parameters from which tenant improvement costs can be calculated
Climbing wall product selection and supplier recommendations best suited to project needs
Climbing wall accessory product recommendations and corresponding budget allocations
Pre-architectural advisement
Space allocation and planning
Climbing infrastructure budget finalization
Redesign and expansion projects
Build-to-suit and existing buildings
Interface with architects, contractors and project management
Partnerships with prominent wall companies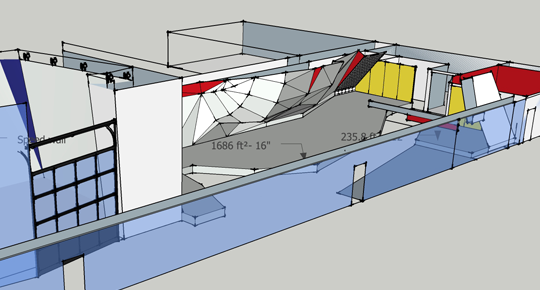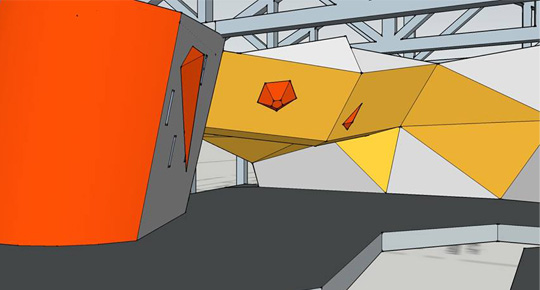 We seek to challenge the design paradigm that has been established by wall manufacturers. With regard to climbing walls,
more is not necessarily better.
Our design services are intended to help our clients develop truly unique and cost effective wall designs, rather than being an "above and beyond" cost to the project. Our team will help you make the best use of your budget by addressing actual customer capacity and market-specific programming needs while maintaining the high quality standards that are the foundation of every Futurist facility.
"Design-by-Numbers" budget analysis and business model assessment determines optimal proportion of climbing wall surface allocated to top rope, auto-belay, lead and/or bouldering areas and constrains/reallocates budget as appropriate.
Responsible design process considers project line items beyond the climbing wall (i.e. holds, flooring, safety equipment, tenant improvements).
Outside perspective helps clients avoid pitfalls and mistakes commonly made by facilities in other markets.
Expect 20-25% savings on climbing wall square footage quantity based on efficiency of design functionality offered by modern design philosophy.
Enjoy 15-20% savings on climbing flooring based on appropriate quantity and minimizing of waste associated with climbing wall footprint complexity.
Your gym should be a reflection of your brand and your personal passion for climbing. Our goal as independent designers is to protect the business interests of our clients and to enable them to maintain autonomous creative control over their projects.
We aim to facilitate a collaborative design process that engages facility stakeholders and prioritizes design aesthetic and brand distinction over project size.
Gives each facility a competitive advantage by creating a uniquely impactful design
Infuses fresh ideas and new concepts reflecting shifting trends in the sport
Protects clients from non-relevant, redundant and recycled climbing wall design work product
Prioritizes service-based design concepts aimed at providing physical infrastructure to support programmatic needs, operational efficiency and customer experience